Regulatory reform stuck in limbo since 2014 - WTD?
Come across a little known (and not ever referred to, that I can remember -
) M&M era department webpage, which paints a very disturbing picture of aviation safety regulatory reform stagnation, that dates back to 2014...
:
---
Regulation in the Department
Listen to this page
A
A
A
Regulatory Reform
The Australian Government has established a regulatory reform policy that aims to improve growth and enhance competitiveness across the Australian economy.
Having delivered $4.5 billion in
red tape savings
within two years, the Government is starting a new chapter in its approach to regulatory reform. On 12 November 2015, the Hon Peter Hendy MP, Assistant Minister for Productivity, announced that from 1 July 2016 the Government will broaden its
Regulatory Reform Agenda
 to focus on reforms that directly enhance innovation, competitiveness and productivity.
The Infrastructure and Regional Development Portfolio is vigorously pursuing regulatory reforms, with a particular focus on achieving efficiencies through administrative improvements and harmonising international and domestic regulatory requirements.
This will maintain our high safety and security standards for Australia's transport systems, whilst removing compliance costs for which there are no commensurate safety or public interest benefits.
Regulator Performance Framework
As a key Commonwealth safety regulator, continuous improvement is already at the core of the portfolio's regulatory vision. The Government's
Regulator Performance Framework
(RPF) establishes a common set of performance measures that will allow regulators to comprehensively assess their regulatory performance and their engagement with stakeholders.
Regulators within the Department have developed key performance indicators, measures and metrics to enable them to assess their regulatory performance on an annual basis.
The portfolio will continue to build on best practice regulation standards to improve transparency, accountability, clear communications and risk-based approaches to regulation.
Regulatory Audit 2014
In 2014, the Infrastructure and Regional Development portfolio conducted an Audit of its regulations as part of the Government's Red Tape Reduction Programme. The Regulatory Audit Results by Transport Sector Paper provides a summary of the results of the Audit in the context of value to the Australian economy.
Regulatory Audit Results by Transport Sector Paper PDF: 188 KB 

International standards and risk assessments
As part of the Government's broader Deregulation Policy all Portfolios are seeking opportunities for greater acceptance of international standards and risk assessments. This will mean that Australian regulators should adopt relevant and accepted trusted international standards, unless there is a good reason to impose additional Australian-specific requirements. To that end, the Department has developed a flow chart to assess the appropriateness of international standards and risk assessments that might apply to the Australian context when developing and adopting new policy.
---
Starting with the 2014 reg audit it is obvious that the former M&M and his minions tried to spin the light fantastic when it comes to the troubling facts & figures of the aviation sector:
---
Aviation
A strong, competitive and safe aviation sector is vital to Australia's continued prosperity. The aviation sector is regulated by the Civil Aviation Safety Authority (CASA) and the Department, including within it the Office of Transport Security, and the Aviation and Airports division. Airservices Australia also has an important role in the aviation sector, including managing air traffic operations and providing aeronautical data.
The 2014 Audit of regulations found that, of 335 regulatory frameworks across the portfolio, approximately 101 apply to the aviation sector and of these 71 are managed by CASA. The total cost of regulation across the aviation sector, including costs to business and individuals, is estimated to be approximately $403.69 million.
There are over 3,031,248 flights in Australia each year, bringing the average cost of regulatory requirements by aviation regulators to around $132.62 per flight, including airport and airline safety and security requirements. Costs per flight would be lower for smaller aircraft with fewer passengers than for commercial airliners. The range of costs reflects the portfolio's approach of ensuring regulations are fit for purpose and regulatory burden is commensurate to safety and public interest.
The estimated gross value added (GVA) of the aviation transport sector is approximately $6.53 billion, excluding broader productivity benefits. The cost of regulation as a proportion of GVA is estimated to be approximately 6.2 per cent.
Given the excellent safety record of Australia's aviation sector and the high priority placed on safety and security, the cost of the regulatory frameworks is considered low in contrast to the economic value added by the industry.
---
The part in bold is seemingly a justifiable, bureaucratic, word weasel, motherhood statement, which brings into sharp focus the old chestnut of 'affordable safety' if (the big IF) in fact the statement were true.
Where this statement falls down is when you refer to the comparison to all other Federally regulated transport sectors, which presumably also fall into the 'excellent' safety record category -  
:
---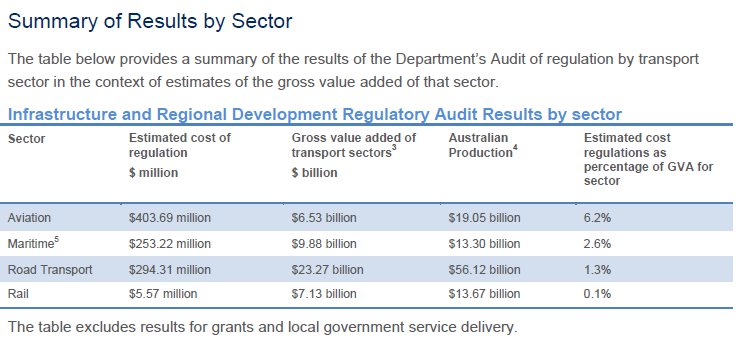 ---
Okay, so my understanding of that (in simple terms) is that the regulatory impost  (enforced mostly by CASA) on the aviation sector, is over 200% higher than the next closest transport sector (i.e. maritime).
This disturbing tale of red tape purgatory by our disenfranchised big "R" regulator CASA, only gets worse when you examine the complete 'up yours' consideration that our 'law unto themselves' regulator has given to another former Abbott government initiative:
 "...This will mean that Australian regulators should adopt

relevant and accepted trusted international standards,

unless there is a

good reason

to impose additional Australian-specific requirements..."
---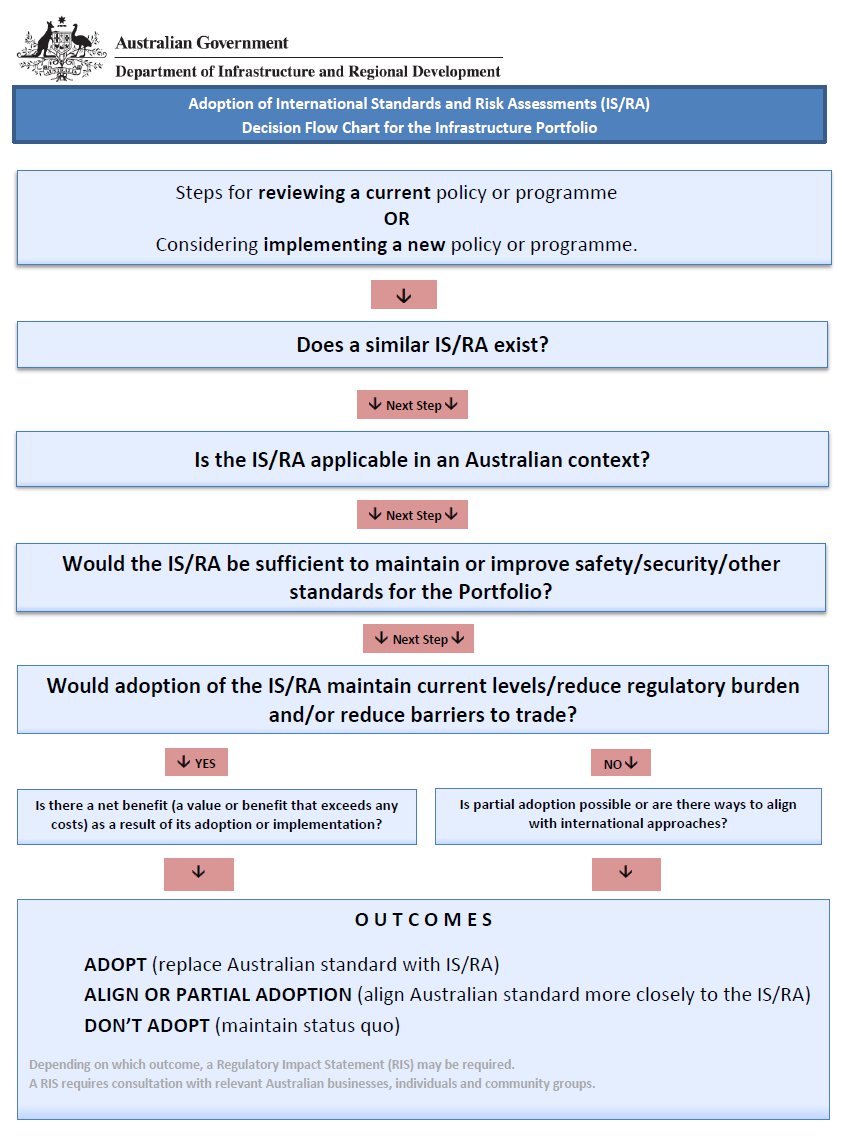 ---
Is it any wonder that this stuff has been lost - apparently not to be revisited - on some obscure department webpage - UDB!

MTF...P2